2015年2月24日米国カリフォルニア州キャンベル発―Infonetics Research, (now part of IHS Inc. )は、今日グローバルサービスプロバイダー向けボイスオーバーIP (VoIP) およびIPマルチメディアシステム (IMS) 関連機器の市場が2014年に12%成長して$42億に達したと報告した。これは通信事業者が、ボイスオーバーLTE (VoLTE) を中心とする次世代の音声サービスを提供するために、継続的にネットワークの簡素化とコスト効率の向上を進めた結果である。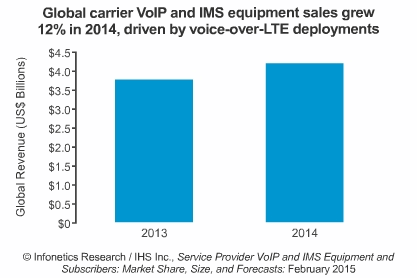 「サービスプロバイダー向けVoIP及びIMSの市場は2014年に、VoLTEの配備とネットワーク変革プロジェクトの影響を受けて堅実に成長しました。2015年についても見通しは明るいと思います。VoLTEが引き続き活発なうえに新たにボイスオーバーWiFi (VoWiFi) が開始されるからです。」 とInfonetics ResearchのVoIP、UCおよびIMS担当首席アナリストDiane Myersは語る。
VoIPおよびIMS市場のハイライト
キャリア向けVoIP及びIMS関連機器市場は年間を通じて増大したが、4Q14の四半期の成長は力強く、前期比で21%上昇して$12億に達した。この58%をIMS関連が占める。
市場の中で4Q14に対前年比で堅実な成長を見せた分野は、トランク・メディア・ゲートウェイ、セッション・ボーダー・コントローラー (SBC)、ソフトスイッチ、ボイスアプリケーション・サービス、発話セッション制御機能 (CSCF)、それにメディア・ゲートウェイ制御機能 (MGCF) である。
今日まで、アメリカ、韓国、香港、日本、シンガポール、ルーマニア、デンマークの15社の通信事業者が商業ベースのVoLTEサービスの提供を始めている。AT&T、Verizon、KT、NTT DoCoMo、TDCなどである。
2014年には世界の主要な地域のすべてで成長が見られたが、とりわけCALA (カリブ海・南米地域) の成長率が大きく、固定電話上のVoIPネットワークの急拡大に伴って前年度比42%増となった。
EMEA (ヨーロッパ・中東・アフリカ地域) は引き続き堅調に成長した。これは通信事業者が2015年にVoLTEのサービスを開始するのに先立って関連機器の販売が伸びたためである。
4Q14並びに2014年の年間を通じてHuaweiが売り上げ一位となった。同社はキャリア向けVoIPおよびIMS市場の売り上げを大きく伸ばし、同年の世界像売り上げの26%を得た。
Alcatel-Lucent、Ericsson、HuaweiやNokia Networksなどの大きなネットワーク機器ベンダーはすべて、活発なVoLTE関連市場の恩恵を受けている。
Infoneticsの予測では、世界のサービスプロバイダー向けVoIP及びIMS関連機器市場は2019年に$46億に達する。
IMS AND VOIP REPORT SYNOPSIS
Infonetics' quarterly carrier VoIP and IMS report provides worldwide and regional market share, market size, forecasts through 2019, analysis and trends for trunk media gateways, SBCs, media servers, softswitches, voice application servers, HSS, CSCF, BGCF, MGCF, IM/presence application servers, and subscribers. Vendors tracked: Alcatel-Lucent, BroadSoft, Dialogic, Ericsson, GENBAND, Huawei, Mavenir, Metaswitch, NEC, Nokia Networks, Oracle, Radisys, Sonus, ZTE, others.
(原文)

Voice over LTE Activity Sends Global Service Provider VoIP Equipment Market Up 12 Percent in 2014
Campbell, CALIFORNIA (February 24, 2015)-Technology market research firm Infonetics Research, now part of IHS Inc. (NYSE: IHS), today reported that the global service provider voice over IP (VoIP) and IP multimedia subsystem (IMS) equipment market grew 12 percent in 2014, to $4.2 billion, as operators continue to transform their networks to be simpler, more cost effective, and able to offer next gen voice services, chiefly voice over LTE (VoLTE).
"The service provider VoIP and IMS market posted solid growth in 2014 due to VoLTE deployments and network transformation projects. We feel positive about 2015 with VoLTE activity continuing and voice over WiFi (VoWiFi) beginning to ramp," Diane Myers, principal analyst for VoIP, UC, and IMS at Infonetics Research, said.
VOIP AND IMS MARKET HIGHLIGHTS
In addition to a healthy annual gain, the carrier VoIP and IMS equipment market saw strong quarterly growth, up 21 percent sequentially in 4Q14, to $1.2 billion, with IMS comprising 58 percent of total sales
Market segments posting solid year-over-year growth in 4Q14 include trunk media gateways, session border controllers (SBCs), softswitches, voice application servers, call session control function (CSCF) and media gateway control function (MGCF)
To date, 15 operators in the US, South Korea, Hong Kong, Japan, Singapore, Romania and Denmark have launched commercial VoLTE services, including AT&T, Verizon, KT, NTT DoCoMo and TDC
All major geographical regions posted growth in 2014, but CALA (Caribbean and Latin America) was a shining star, notching 42 percent growth over 2013 due to the expansion of fixed-line VoIP networks
EMEA (Europe, Middle East, Africa) continues to see solid activity as VoLTE-related equipment sales are starting to kick in ahead of 2015 service launches by operators
The standout vendor in 4Q14 and for the full-year 2014 is Huawei, which outpaced the carrier VoIP and IMS market, taking 26 percent of worldwide revenue for the year
All the large network equipment vendors - Alcatel-Lucent, Ericsson, Huawei and Nokia Networks - are benefitting from VoLTE-related activity
Infonetics forecasts the worldwide service provider VoIP and IMS equipment market to grow to $4.6 billion in 2019