2015年2月27日米国カリフォルニア州キャンベル発―Infonetics Research (now part of IHS Inc. (NYSE: IHS)は本日、2014年のDOCSIS (Data Over Cable Service Interface Specification) のチャンネル出荷数が世界規模で114%増の480万チャンネルとなる記録的な水準に達し、ケーブル事業者はこれまで以上に速いスピードのサービスを顧客に提供すべく、継続的にネットワークを改善していることを報じた。

Infoneticsの2014年第4四半期と年間のCCAP、CMTSおよびEdge QAMハードウェアに関する報告では、統合ケーブルアクセス・プラットフォーム (CCAPs)、ケーブルモデム・ターミネーション・システム (CMTSs)、同軸ケーブル・メディア・コンバーター (CMCs)、エッジQAMチャンネルを含む、ケーブル・ブロードバンドの加入者と機器に関するデータの動向を追いかけている。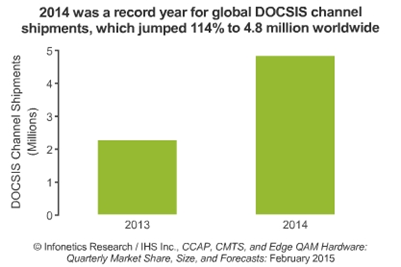 「持続的なDOCSISチャンネル出荷の増加は、光ノードを分割しCCAP 経由のサービスグループ・サイズを縮小するための、CATV統括運営会社 (MSOs') によるDOCSIS帯域およびIPビデオのようなサービスへの傾倒に対する継続的な投資の明らかな証拠です。」と、Infonetics Researchのブロードバンド・アクセスおよび有料TV担当主席アナリストJeff Heynen氏は語った。

「CCAPおよびCMTSプラットフォーム・チャンネルの増加傾向は、事業者によるDOCSIS 3.1ならびにリモート・フィジカル (R PHY) アーキテクチャの対応準備という点で引き続き伸びを示すものの、主要な伸びはCCAP製品によるものとなるでしょう。」と、Heynen氏は語った。
ケーブル・ブロードバンド市場のハイライト
2014年第4四半期の世界的なCCAP、CMTS、エッジQAMおよびCMCの売上高は合計で4億9,300百万ドルとなり、前期比11%増となった。
2014年通年では、CCAP、CMTS、エッジQAMおよびCMCギアの世界全体の売上は前年比27%増の17億ドルとなった。
2014年は、従来のCMTSから急速なCCAPの展開という変動期であった。2013年から2014年の間に、CCAPの売上高は997%上昇して14億ドルに達し、一方でCMTSは84%減の1億5,500万ドルとなった。
CMTSからCCAPへの変遷は、2014年における興味深い市場シェアの変動をもたらした。Arrisはケーブル・ブロードバンド市場に特化し、世界の売上高の48%を獲得したが、CiscoにとってはCCAP / CMTSの売り上げ面で最も落胆させる一年であった。

Casa Systemsも2013年から売上を195%伸ばし、記録的な2014年となった。

主要な北米市場において、2014年のDOCSISチャンネル出荷は前年から139%増加し、売上高も35%の上昇となった。
Infoneticsでは、ペンディングとなっているComcastとTime Warner Cableとの合併が、通常動きが鈍い第1四半期を更に鈍化させ、2015年初めにおける北米地域に直接的な影響を及ぼすと予測している。

2015年第1四半期の北米におけるCCAP、CMTS、CMCおよびエッジ QAMチャンネル出荷は、前期比7%の下落が予測されている。
CABLE HARDWARE REPORT SYNOPSIS
Infonetics' quarterly CCAP, CMTS, and edge QAM report provides worldwide and regional market size, vendor market share, forecasts through 2019, analysis and trends for CCAP, CMTS, CMC and edge QAM (linear broadcast, VoD and unicast video, switched digital video, and DOCSIS/M CMTS) equipment and cable broadband subscribers (standard and wideband). Vendors tracked: Arris, Casa Systems, Cisco, Ericsson, Harmonic, Huawei, others.
(原文)

Cable Broadband Speed Battles Rage as Operators Invest in a Record 4.8 Million DOCSIS Channels in 2014
Campbell, CALIFORNIA (February 27, 2015)-Technology market research firm Infonetics Research, now part of IHS Inc. (NYSE: IHS), today reported that Data Over Cable Service Interface Specification (DOCSIS) channel shipments rose to record levels in 2014 - up 114 percent to 4.8 million worldwide - as cable operators continue to improve their networks to offer services to customers at ever-higher speeds.

Infonetics' fourth quarter 2014 (4Q14) and year-end CCAP, CMTS, and Edge QAM Hardware report tracks cable broadband subscribers and equipment including converged cable access platforms (CCAPs), cable modem termination systems (CMTSs), coaxial media converters (CMCs) and edge quadrature amplitude modulation (QAM) channels.
"The continued growth of DOCSIS channel shipments is a strong sign of multiple system operators' (MSOs') ongoing investment to ramp DOCSIS bandwidth and services like IP video by splitting optical nodes and reducing service group sizes via CCAP," said Jeff Heynen, principal analyst for broadband access and pay TV at Infonetics Research.

"We look for the upward trend in channels on CCAP and CMTS platforms to continue to grow as operators prepare their networks for DOCSIS 3.1 and remote physical (R PHY) architectures, though the growth will come principally from CCAP products," Heynen said.
MORE CABLE BROADBAND MARKET HIGHLIGHTS
Globally, CCAP, CMTS, edge QAM and CMC equipment revenue totaled $493 million in 4Q14, an 11 percent sequential increase
For the full-year 2014, worldwide sales of CCAP, CMTS, edge QAM and CMC gear grew 27 percent from the prior year, to $1.7 billion
2014 will be remembered as a transitional year from traditional CMTS to provisional CCAP deployments: From 2013 to 2014, CCAP revenue increased 997 percent to $1.4 billion, while CMTS revenue dropped 84 percent to $155 million
The transition from CMTS to CCAP resulted in interesting market share shifts in 2014: Arris dominated the cable broadband market, capturing 48 percent of global revenue, while Cisco had one of its most disappointing years for CCAP/CMTS sales

Casa Systems also had a record 2014, growing revenue 195 percent from 2013

In the key market of North America, DOCSIS channel shipments were up 139 percent in 2014 over the previous year, and revenue was up 35 percent
" Infonetics expects the pending merger between Comcast and Time Warner Cable to have a direct impact on the North American region in the early part of 2015, exacerbating the usual first quarter slowness

o N. American CCAP, CMTS, CMC and edge QAM channel shipments are forecast by Infonetics to drop 7 percent sequentially in 1Q15