2015年3月9日米国カリフォルニア州キャンベル発―Infonetics Research (now part of iHS Inc. (NYSE: IHS))は今日、世界のストレージ・エリア・ネットワーク機器 (SAN) 市場が2013年の落ち込みの後、2014年には3%成長して25億ドル規模になったことを報じた。データセンターでサーバーからストレージアレイへのトラフィックがかつてないほどの水準まで増加し、これに対処できるよう設計された機器への需要が戻ってきた形だ。

Infoneticsが作成したレポート、2014年第4四半期 (4Q14) および年度末版SANと集中型データセンター・ネットワーク機器では、SANファイバーチャネル・スイッチとホスト・バス・アダプター (HBA) および、集中型データセンター・ネットワーク・アダプターとストレージ向けスイッチ・ポートインユースについて継続調査している。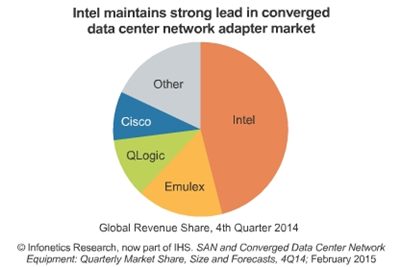 Infonetics Researchでデータセンター、クラウド、SDNのリサーチディレクターを務めるCliff Grossnerは次のように語る。「当社では今年、2x25GEポート搭載アダプターの出荷が始まると予想しています。これによりデータセンターのパフォーマンスの限界が押し上げられ、クラウド・コンピューティングの次の波の先駆けとなるでしょう。新たな25/100GEアーキテクチャがデータセンターに導入されることで既存の10/40GEアーキテクチャが補完され、クラウドサービス事業者にとっては明確な移行経路が示されることになります。」

Grossner氏はこう続けた。「最近のことですが、QLogicがBroadcomのStrataXGS Tomahawkベースのスイッチを利用して25GEと100GEの相互運用性を実証しました。」
SAN/集中型データセンター市場のハイライト
2014年第4四半期、ファイバーチャネル・スイッチとホスト・バス・アダプターを含む世界のストレージ・エリア・ネットワーク市場は2%の連続上昇で総計6.69億ドル規模になった。
ソリッドステートドライブ (SSD) ストレージ向けに、16Gおよび高性能要件が求められるため、ファイバーチャネルSAN市場の成長はさらに続いている。
世界的に見ると、統合ネットワーク・アダプター (CNA) の収益は2013年から2014年にかけて8%増加したが、2014年第3四半期から2014年第4四半期にかけては7%減少した。
SANとCNAのベンダーは、Intelのサーバー向けASIC (特定用途向け集積回路)、コードネームGrantleyの登場でサーバーのリフレッシュサイクルが進む結果として、大幅な収益の増加を期待している。
BrocadeはSANスイッチとアダプター市場ではトップの地位を確固たるものにしているが、統合アダプター市場ではIntelがリードしている。
SAN / CNA REPORT SYNOPSIS
Infonetics' quarterly SAN equipment and converged data center network report provides worldwide and regional market size, vendor market share, forecasts through 2019, analysis and trends for chassis and fixed Fibre Channel switches; Fibre Channel HBAs; converged data center switch ports-in-use for storage (iSCSI, FCoE, FC-to-FCoE); and converged data center network adapters (iSCSI, CNAs, universal). Vendors tracked: Alcatel-Lucent Enterprise, Arista, Brocade, Cisco, Dell, Emulex, HP, Intel, Juniper, Lenovo, NEC, QLogic, others
(原文)

New Era of Data Centers Coming via 25GE; Intel's Grantley Server Chip Driving Growth
Campbell, CALIFORNIA (March 9, 2015)-Technology market research firm Infonetics Research, now part of IHS Inc. (NYSE: IHS), today reported that following a decline in 2013, the global storage area network equipment (SAN) market grew 3 percent in 2014, to $2.5 billion, as demand returns for equipment built to handle unprecedented levels of server-to-storage-array data center traffic.

Infonetics' fourth quarter 2014 (4Q14) and year-end SAN and Converged Data Center Network Equipment report tracks SAN Fibre Channel switches and host bus adapters (HBAs), converged data center network adapters and switch ports-in-use for storage.
"We expect to see adapters with 2x25GE ports begin shipping this year, which will push the performance envelope in the data center, ushering in the next wave of cloud computing. The introduction of a new 25/100GE architecture in the data center will complement existing 10/40GE architectures, giving cloud service providers a clear migration path," said Cliff Grossner, Ph. D., research director for data center, cloud, and SDN at Infonetics Research.

"QLogic recently demonstrated 25GE and 100GE interoperability with Broadcom's StrataXGS Tomahawk-based switch," Grossner said.
MORE SAN / CONVERGED DATA CENTER MARKET HIGHLIGHTS
In 4Q14, the worldwide storage area network market, including Fibre Channel switches and host bus adapters, totaled $669 million, a sequential uptick of 2 percent
Demand for 16G and high-performance requirements for solid-state drive (SSD) storage continues to drive the Fibre Channel SAN market higher
Globally, converged network adapter (CNA) revenue grew 8 percent in 2014 from 2013, but declined 7 percent in 4Q14 from 3Q14
SAN and CNA vendors are anticipating significant revenue growth as a result of a server refresh cycle driven by Intel's server ASIC, code named Grantley
Brocade is the unchallenged leader in the SAN switch and adapter market, and Intel heads up the converged adapter market