2015年4月17日米国カリフォルニア州キャンベル発-Infonetics Researchは今日、スモールセル市場が前年同期比で42%成長し、8.66億ドル規模になったことを報告した。

Infonetics Researchでモバイルインフラとキャリアの経済状況について分析する主席アナリスト、Stéphane Téral氏は次のように語る。「当社の予想通り、2014年はスモールセルにとって躍進の幕開けの年になりました。出荷台数は前年から73%増加し、その多くは中国移動通信がマイクロセルの大規模展開を行ったことによるものでした。その一方で、中国国外のスモールセル市場は依然として緩やかなペースで推移しています。」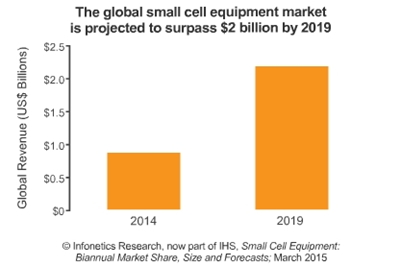 Infonetics/IHSでモバイルバックホールとスモールセルを担当するアナリストであり、レポートの共同執筆者であるRichard Webb氏は次のように語る。「サービス事業者の多くがスモールセル展開に向けた初期計画を再検討し、その規模と時間枠をこれまでよりずっと控えめなものにしようと考えています。スモールセルを展開する前にマクロネットワークに新分野を設けることに重心を移すためです。」

Infoneticsによるスモールセル機器市場シェア・規模・予測レポートでは、サービス事業者および企業向けスモールセルや利用場面から見たスモールセルについて追跡調査している。
スモールセル市場のハイライト
郊外・地方・遠隔地向けスモールセルが、2014年の世界全体での出荷台数で最大のシェアを占めている。
企業の建物の中や公共の場での受信エリアを改善する必要から、2014年の屋内向けスモールセルの出荷台数は第3位になった。
流通量が増大し、サービス事業者がプラグアンドプレイのフォームファクタを模索することで、屋内向けスモールセル分野のコモディティ化は急速に進むと予想されている。
Infonetics/IHSは、従来よりもスモールセル・フォーラムの市場細分化カテゴリーに則した形でスモールセル・カバレッジを分類しなおした上で、市場は2014年から2019年まで複合年間成長率 (CAGR) 20%で成長し、最終的に22億ドルに達すると予測している。
SMALL CELL REPORT SYNOPSIS
Infonetics' biannual small cell report provides worldwide and regional market size, forecasts through 2019, analysis and trends for enterprise small cell and service provider small cell (urban, rural and remote) equipment, and small cells by application (indoor and outdoor). The report also includes a small cell activity tracker. Vendors tracked: Airspan, Airvana, Alcatel-Lucent, Argela, Cisco, Contela, Ericsson, Huawei, ip.access, Juni, NEC, Nokia Networks, QuCell, Samsung, SK Telesys, SpiderCloud, Ubee Interactive, Ubiquisys, ZTE, others.
(原文)

China Mobile Plays Huge Role in Small Cell Market's 2014 Liftoff
Campbell, CALIFORNIA (April 17, 2015)-Technology market research firm Infonetics Research, now part of IHS Inc. (NYSE: IHS), today reported the small cell market grew 42 percent year-over-year in 2014, to $866 million.

"As we anticipated, 2014 shaped up as a kickoff year for small cells. Unit shipments spiked 73 percent from the prior year thanks largely to China Mobile's massive rollout of microcells. Meanwhile, outside China the small cell market is still moving at a modest pace," said Stéphane Téral, principal analyst for mobile infrastructure and carrier economics at Infonetics Research.
"Many service providers have revisited their initial small cell rollout plans and are projecting much more conservative scales and timeframes as they refocus on adding new sectors to their macro network before rolling out small cells," said Richard Webb, directing analyst for mobile backhaul and small cells at Infonetics/IHS and co-author of the report.

Infonetics' Small Cell Equipment market share, size, and forecast report tracks service provider and enterprise small cells, as well as small cells by application.
SMALL CELL MARKET HIGHLIGHTS
Suburban, rural and remote small cells comprised the lion's share of unit shipments worldwide in 2014
Indoor small cells accounted for a third of unit shipments in 2014, driven by the need to improve coverage in enterprise buildings and public venues
The indoor small cell segment is expected to move rapidly toward commoditization as volumes rise and service providers seek plug-and-play form factors
Infonetics/IHS has re-categorized its small cell coverage to align more closely with the Small Cell Forum's market segmentation categorization and now expects the market to grow at a 20 percent CAGR from 2014 to 2019, when it will hit $2.2 billion