2015年4月30日米国カリフォルニア州キャンベル発― Infonetics Researchは今日、2014年のクラウド・セキュリティー・サービス市場が前年の63億ドルから13.5%成長して72億ドルになったことを報告した。

現在IHS傘下のInfonetics Researchでサイバーセキュリティー技術のリサーチを担当するJeff Wilson氏は次のように語った。「すでに巨大なクラウドとCPE管理セキュリティー・サービス、なかでもクラウド・サービスの市場は非常に好調です。その理由は、プロバイダーが管理サービスの実情に合わせてソフトウェア定義ネットワーク (SDN) およびネットワーク機能仮想化 (NFV) を展開し始めることです。」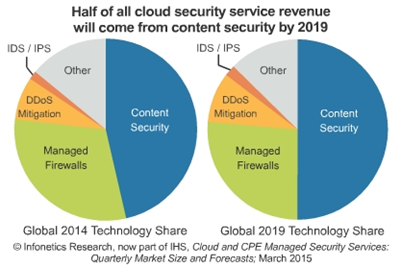 Wilson氏はこう続けた。「プロバイダーはSDNとNFVへの期待を大きな支えにしています。これによって、新たなセキュリティー・サービスを幅広く展開していくことが容易になります。こういったサービスでは、自社クラウドのアプリケーション、データ、インフラを保護し、顧客に新サービスを提供するための仮想アプライアンスが活用されます。」

Infoneticsによる2015年版クラウドとCPE管理セキュリティー・サービスのレポートでは、サービス事業者が中小・大規模企業に提供するクラウドおよび顧客宅内機器 (CPE) ベースのセキュリティー・サービス市場の分析・予測を行なっている。
管理セキュリティー市場のハイライト
2014年の世界における管理セキュリティー・サービスの総収益は、2013年から10%上昇して158億ドルになった。
2014年のセキュリティー・サービス収益の内、クラウドベースのサービスが46%を占め、CPEベースのサービスが54%を占めた。
Infonetics/IHSは、2018年までにクラウド・セキュリティー・サービスがCPEベースのセキュリティー・サービスを上回ると予想している。
クラウドベースのセキュリティー・サービスの収益にもっとも貢献しているのはコンテンツ・セキュリティーで、以下、管理ファイアーウォール・サービス、その他のセキュリティー・サービス、分散型サービス拒否 (DDoS) 攻撃緩和対策、侵入検知・防止システムと続く。
MANAGED SECURITY REPORT SYNOPSIS
Infonetics' annual cloud and CPE security report provides market size, forecasts through 2019, analysis and trends for cloud and CPE managed security services by organization size and technology: managed firewalls, content security, intrusion prevention systems (IPS), intrusion detection systems (IDS), DDoS mitigation and other services.
(原文)

Strong Growth Ahead for Cloud Security Services as Operators Leverage SDN and NFV
Campbell, CALIFORNIA (April 30, 2015)-Technology market research firm Infonetics Research, now part of IHS Inc. (NYSE: IHS), today reported that the cloud security services market grew 13.5 percent in 2014 to $7.2 billion worldwide, up from $6.3 billion the previous year.

"Our long-term outlook for the already very large cloud and CPE managed security services market, especially for cloud services, is quite strong as providers begin to leverage their software-defined networking (SDN) and network functions virtualization (NFV) rollouts to really scale the delivery of managed security services," said Jeff Wilson, research director for cybersecurity technology at Infonetics Research, now part of IHS.
"Providers are leaning heavily on SDN and the promise of NFV, and this will help them deliver a wide range of new security services that leverage virtual appliances for protecting applications, data and infrastructure in their own clouds, and delivering new services to customers," Wilson said.

Infonetics' 2015 Cloud and CPE Managed Security Services report analyzes and forecasts the market for cloud- and customer premises equipment (CPE)-based security services delivered by service providers to small, medium and large businesses.
MORE MANAGED SECURITY MARKET HIGHLIGHTS
Managed security service revenue totaled $15.8 billion worldwide in 2014, rising 10 percent from 2013
Cloud-based offerings made up 46 percent of security service revenue in 2014, with CPE-based services contributing 54 percent
By 2018, Infonetics/IHS expects cloud security services to surpass CPE-based security services
The largest contributor to cloud-based security service revenue is content security, followed by managed firewall services, other security services, distributed denial of service (DDoS) mitigation and intrusion detection/prevention systems