2015年5月11日米国カリフォルニア州キャンベル発―Infoneticsは本日、2015年版Cloud UC North American Service Provider Scorecardより、その概要をリリースした。このレポートでは、北米を対象にクラウド/ホステッドユニファイドコミュニケーションの上位プロバイダーを分析、ランク付けしている。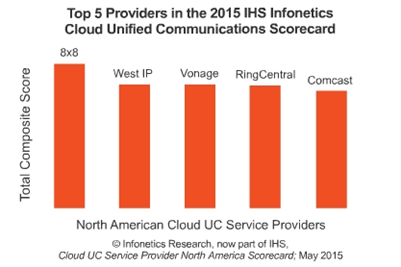 「2年連続で8x8はホステッドUC市場で断トツのリーダーとなっています。同社はこれまで3年以上にわたり堅固な財務基盤を構築してきたほか、サービスの向上や地理的な拡張に注力しています。8x8のインストールベースは今でも中小企業がメインですが、高級市場への進出にも成功しています」と、IHS InfoneticsでVoIP、UC、IMSを担当しているリサーチディレクターのDiane Myers氏は述べた。
クラウドUCプロバイダースコアカードのハイライト
Infoneticsによる北米におけるホステッドUCスコアカード(2015年)で最上位にいるのは8x8、West IP Communications、Vonage、RingCentral、Comcastである。

Vonageは今年、買収により顧客ベースを拡張したことで最も大きな飛躍を見せた。

スコアカードの二番手に位置するのは、Broadview Networks、Mitel、Star2Star、Thinking Phone Networks、Verizon(アルファベット順)である。
UCアズ・ア・サービス業界で成長中かつ順調な動きをしており、上位10社のすぐ下に位置しているのは、CenturyLink、CoreDial、Cox、Earthlink、iCore、Masergy、Megapath、ShoreTel、Windstream、XO などのプロバイダー群である。
ABOUT THE IHS INFONETICS CLOUD UC SCORECARD
IHS Infonetics' annual North American UC cloud scorecard identifies the service providers currently leading the hosted/cloud unified communications (UC) market and those best positioned to succeed long term. The rankings are based on criteria such as installed base of seats, financial stability, market strategy, service capabilities and support options. Service providers making the top ten include 8x8, Broadview Networks, Comcast, Mitel, RingCentral, Star2Star, Thinking Phone Networks, Verizon, Vonage and West IP Communications.
(原文)

Top Spot in IHS Infonetics' Cloud Unified Communications Scorecard Goes to 8x8 for Second Straight Year
[[[ Campbell, CALIFORNIA (May 11, 2015)-Technology market research firm IHS Infonetics (NYSE: IHS), ]]] today released excerpts from its 2015 Cloud UC North American Service Provider Scorecard, which analyzes and ranks the top cloud/hosted unified communications (UC) providers in North America.
"8x8 is the decisive leader in the hosted UC market for the second year in a row, building on its solid financial position over the past three-plus years and its continued focus on service enhancements and geographic expansion. Although its installed base is still heavily small businesses, 8x8 is successfully moving upmarket," said Diane Myers, research director for VoIP, UC and IMS at IHS Infonetics.
CLOUD UC PROVIDER SCORECARD HIGHLIGHTS
Topping Infonetics' 2015 North American hosted cloud UC scorecard are 8x8, West IP Communications, Vonage, RingCentral and Comcast

Vonage made the biggest jump this year by accelerating its customer base through acquisitions

Comprising the second tier of leaders in the scorecard are Broadview Networks, Mitel, Star2Star, Thinking Phone Networks and Verizon (listed in alphabetical order)
Growing fast and doing great things in the UC-as-a-Service space, and coming in right below the top 10, are a broad mix of providers such as CenturyLink, CoreDial, Cox, Earthlink, iCore, Masergy, Megapath, ShoreTel, Windstream and XO