2015年5月26日米国マサチューセッツ州ケンブリッジ発―Infonetics/IHSは今日、2015年第1四半期の世界のオプティカル ネットワーク ハードウェア支出が前年同期比で5%上昇したことを報告した。EMEA (欧州、中東、アフリカ) 地域では引き続き改善の兆候が見られ、日本は100Gの大規模展開を準備している。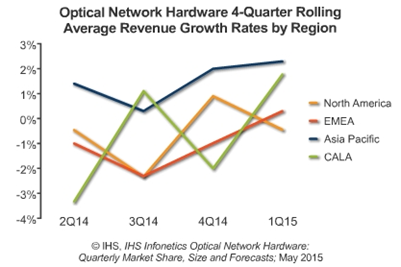 IHSでキャリア伝送ネットワークを担当するリサーチディレクター、Andrew Schmitt氏は次のように語った。「現在、オプティカル ネットワークの焦点はメトロ (都市圏) に移行しています。この市場向けに特化した新製品が発表され、製造が計画されています。これにより、データセンターや従来のサービス事業者がメトロ100Gの採用を大きく加速することができます。」

Schmitt氏はこう続けた。「一方で、サービス事業者市場は、電気通信会社とウェブ通信会社の2派に分かれており、それぞれがオプティカル伝送について独自のニーズを抱えています。現時点ではウェブ通信会社の支出が勢いを増しており、ベンダーはロードマップとマーケティングをそうしたニーズに合わせるために新たなポジションを模索しています。」
オプティカル市場のハイライト
2015年第1四半期、WDMやSONET/SDHなどオプティカル ネットワーク機器の世界市場の総規模は27億ドルとなった。
前年比で2四半期連続の成長を遂げ、オプティカル不況を脱しつつあるように見える欧州の業績は、ドル高の影響で大方の予想を上回っている。

欧州で業績の好調な企業は、着実に増収を続けているAlcatel-Lucentである。

2015年第1四半期、世界のWDMの収益は前四半期比で9%上昇し、11四半期連続の成長となった。
100Gへの支出は世界的に急増しており、WDMの収益の約25%を占め、主にAlcatel Lucent、Ciena、Cisco、Huawei、Infineraの業績に貢献している。
インターネット コンテンツ プロバイダー (ICP) は引き続き急成長し、現在北米におけるオプティカル支出の約10%を占めているが、将来的には乱高下が予想される。
OPTICAL REPORT SYNOPSIS
The quarterly IHS Infonetics Optical Network Hardware market research report tracks and forecasts the global optical equipment market. The research service provides worldwide and regional market size, vendor market share, forecasts through 2019, analysis and trends for metro and long haul SONET/SDH and WDM equipment, Ethernet optical ports, SONET/SDH/POS ports and WDM ports. Vendors tracked include Adtran, Adva, Alcatel-Lucent, Ciena, Cisco, Coriant, Cyan, ECI, Fujitsu, Huawei, Infinera, NEC, Padtec, Transmode, TE Connectivity, Tyco Telecom, ZTE, others.
(原文)

Europe Exiting Optical Spending Slump, Data Centers Bullish on 100G
Cambridge, MASSACHUSETTS (May 26, 2015)- IHS (NYSE: IHS) today reported that global optical network hardware spending was up 5 percent in the first quarter of 2015 (1Q15) from year ago as signs of improvement continued to emerge in EMEA (Europe, the Middle East and Africa) and as Japan prepares for a large-scale 100G rollout.
"The focus in optical networking is now shifting to the metro as new products targeted specifically at this market are announced and scheduled for production. This will allow datacenters and traditional service providers to more rapidly adopt metro 100G in a significant way," said Andrew Schmitt, research director for carrier transport networking at IHS.

"Meanwhile, the service provider market is fracturing into two factions-the telcos and webcos-each with specific optical transport needs and requirements. Webco spending is growing faster right now, so vendors are repositioning to align roadmaps and marketing with their needs," Schmitt said.
MORE OPTICAL MARKET HIGHLIGHTS
The worldwide optical network equipment market, including WDM and SONET/SDH, totaled $2.7 billion in 1Q15
With 2 consecutive quarters of year-over-year growth under its belt, Europe appears to be exiting an optical slump; results in the region are better than the headline numbers due to the strengthening dollar

The company outperforming in Europe is Alcatel-Lucent, with a steady trend of rising revenue

WDM revenue rose 9 percent globally in 1Q15 from the previous quarter, putting up an 11th consecutive quarter of growth
100G spending is rapidly increasing worldwide and comprises around a quarter of total WDM revenue, which is flowing primarily into the hands of Alcatel Lucent, Ciena, Cisco, Huawei and Infinera
Internet content providers (ICPs) continue to surge and presently account for roughly one-tenth of North American optical spending, though volatility in future expenditures is likely