2015年6月4日米国カリフォルニア州キャンベル発―Infoneticsは、世界のLTEモバイルインフラ収入が2015年に233億ドルのピークに達し、以降はロールアウトの低下で減少に転じると予想している。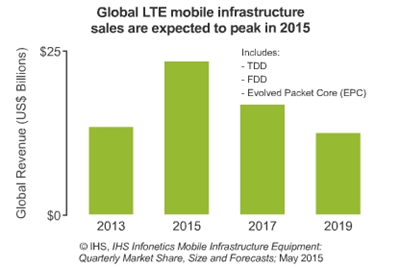 「予想していた通り、LTEのロールアウトはピークに達し、オペレーターが残りのロールアウトを完了していくにつれて四半期あたり収入は60億ドルになっているところです」と、IHSでモバイルインフラとキャリアエコノミクスを担当しているStéphane Téralリサーチディレクターは話している。
モバイルインフラ市場のハイライト
世界のLTE収入は2015年第1四半期(1Q15)に前期比1%減の60億ドルになった。
1Q15におけるLTEのロールアウトは深刻な減少が続く2G/3Gの落ち込みを相殺するには至らなかった。その結果、世界の2G/3G/4Gモバイルインフラの市場規模は前期比8%減の110億ドルとなった。
前年同期比でみると1Q15の2G/3G/4Gモバイルインフラ市場の収入は4%増であった。これは、中国でのTDD LTEの動きが活発であったことによる。
MOBILE INFRASTRUCTURE REPORT SYNOPSIS
The quarterly IHS Infonetics Mobile Infrastructure Equipment market research report tracks more than 50 categories of equipment, software and subscribers based on all existing generations of wireless network technology, including radio access networks (RANs), base transceiver stations (BTSs), mobile softswitching, packet core equipment and E-UTRAN macrocells. The research service provides worldwide and regional market size, vendor market share, forecasts through 2019, deployment trackers, analysis and trends. Vendors tracked include Alcatel-Lucent, Cisco, Datang Mobile, Ericsson, Fujitsu, Genband, HP, Huawei, NEC, Nokia Networks, Samsung, ZTE, others.
(原文)

LTE Peaking at $6 Billion a Quarter - Not Enough to Offset 2G/3G Decline
Campbell, CALIFORNIA (June 4, 2015)-In its latest IHS Infonetics Mobile Infrastructure Equipment report, IHS (NYSE: IHS) forecasts global LTE mobile infrastructure revenue to peak at $23.3 billion in 2015 and then start to decline as a result of diminishing rollouts.
"As we anticipated, we're reaching the peak of LTE rollouts, and LTE is now set to perform at $6 billion a quarter for some time as operators complete their major remaining rollouts," said Stéphane Téral, research director for mobile infrastructure and carrier economics at IHS.
MOBILE INFRASTRUCTURE MARKET HIGHLIGHTS
LTE revenue totaled $6 billion worldwide in the first quarter of 2015 (1Q15), a 1 percent sequential decline
LTE rollouts were not strong enough in 1Q15 to fully offset the abyssal year-over-year decline of 2G/3G spending, resulting in an 8 percent sequential decline for the global 2G/3G/4G mobile infrastructure market, which came to $11 billion
On a year-over-year basis, the 2G/3G/4G mobile infrastructure market was up 4 percent in 1Q15, driven by unabated TDD LTE activity in China