2015年6月10日米国カリフォルニア州キャンベル発―IHS/Infoneticsは、最新のCCAP, CMTS, and Edge QAM Hardwareレポートより抄録をリリースしました。 MSOが自社のブロードバンド・ネットワークに大掛かりなアップグレードを継続したことで、2015年第1四半期 (1Q15) のケーブルDOCSIS (ドクシス、Data Over Cable Service Interface Specification) の出荷数は180万チャンネルとなり、二期連連続で14%伸び、前年同期に比べて48%の上昇となったと報告された。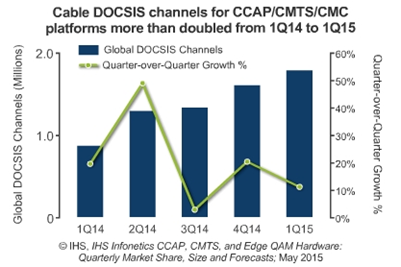 「ケーブル・ブロードバンド市場の第1四半期は、伸びと減少が混ざり合うスタートとなりました。通常第1四半期は市場の動きが鈍いものですが、それでもDOCSISチャンネルは再びの上昇となりました。一方で、売上高は積極的な価格設定とソフトウェア・ライセンスの割合が高くなったことから、減少する結果となりました」と、IHSでブロードバンド・アクセスと有料TV関連の調査責任者を務めるJeff Heynen氏は語った。
ーブル・ブロードバンド市場のハイライト
2015年第1四半期のCCAP、CMTS、CMC、エッジQAMの売上高は二期連続で7%減少し、4億7,400万ドルとなった。
話が立ち消えになったComcastとTime Warner Cableとの合併により、第1四半期は北米主要地域での市場停滞が予測されていたが、そのような逆風にもかかわらず、ケーブル・ブロードバンド市場全体は堅調に推移し、力強い2015年の足場を固めることとなった。
To date, very few cable operators have deployed video QAM channels on their CCAP-capable platforms, tamping the long-term outlook for these channels 現在までのところ、自社のCCAP対応可能プラットフォームにビデオQAMチャンネルを展開しているケーブル事業者はほとんどなく、これらのチャンネルに対する長期的な見通しも控えめである。
ARRISは、E6000 CCAP対応可能製品の早期投入が部分的に功を奏し、2015年第1四半期においてケーブル・ブロードバンド市場を再び席巻した。
CABLE HARDWARE REPORT SYNOPSIS
The quarterly IHS Infonetics CCAP, CMTS, and Edge QAM Hardware market research report tracks cable broadband subscribers and equipment including converged cable access platforms (CCAPs), cable modem termination systems (CMTSs), coaxial media converters (CMCs) and edge quadrature amplitude modulation (QAM) channels. The research service provides worldwide and regional market size, vendor market share, forecasts through 2019, analysis and trends. Vendors tracked include Arris, Casa Systems, Cisco, Ericsson, Harmonic, Huawei, Sumavision, others.
(原文)

Cable Broadband Equipment Market Off to Mixed Start in 2015
Campbell, CALIFORNIA (June 10, 2015)-As MSOs continued major upgrades to their broadband networks, cable DOCSIS (Data Over Cable Service Interface Specification) channel shipments grew to 1.8 million in the first quarter of 2015 (1Q15), a 14 percent sequential increase, and a gain of 48 percent from the year-ago first quarter, according to the latest CCAP, CMTS, and Edge QAM Hardware report.
"The cable broadband market got off to a mixed start in the first quarter. Despite the first quarter typically being a slow one, DOCSIS channels increased yet again. But revenue was down due to a combination of aggressive pricing and a higher proportion of software licenses," said Jeff Heynen, research director for broadband access and pay TV at IHS.
MORE CABLE BROADBAND MARKET HIGHLIGHTS
CCAP, CMTS, CMC and edge QAM revenue fell 7 percent sequentially in 1Q15, to $474 million
The now-dead merger between Comcast and Time Warner Cable was expected to dampen the key North American region in Q1, but despite the headwinds, the overall cable broadband market remained healthy, setting the stage for a strong 2015
To date, very few cable operators have deployed video QAM channels on their CCAP-capable platforms, tamping the long-term outlook for these channels
ARRIS dominated the cable broadband market again in 1Q15, supported in part by the early availability of its E6000 CCAP-capable product