2015年6月10日米国カリフォルニア州キャンベル発―バーチャライゼーションとパケット光テクノロジーをベースとするアーキテクチャーが変化していることで、2014年から2019年にかけての5年間における世界のサービスプロバイダーのルーターとスィッチ市場の複合年間成長率(CAGR)は2.1%増にとどまるだろうと、最新のIHS Infonetics Service Provider Routers and Switches レポートは伝えている。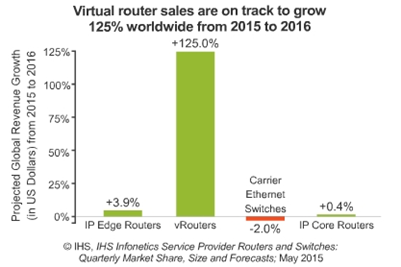 「多くのサービスをエッジルーターからNFVサーバーへ移行し、多くのメトロ・伝送機能をパケット光伝送システム(P-OTS)にシフトするキャリアの計画は、今後5年間でルーターとスィッチへの支出が相当程度落ち込むことを意味しません。むしろこの収入は微増となるでしょう」と、IHSでキャリアネットワークを担当しているMichael Howard シニアリサーチディレクターは述べている。
ルーター・スィッチ市場のハイライト
バーチャルルーター(vRouters)が実世界で利用されるようになったのはほんの数年前である(例えばBrocadeのVyatta vRouter)。
世界のvRouter市場は初期段階にあり、HISでは2015年から2016年にかけてアジア太平洋がリードすることで125%増になると予測している。
世界のサービスプロバイダーのルーターとスィッチ市場の規模は1Q15に33億ドルとなり、前期比では13%減であるが、前年同期比では3%増であった。
1Q15におけるルーターとキャリアEthernetスィッチ(CES)の収入を地域別にみると、北米、EMEAと中南米が前年同期比で増加した一方で、アジア太平洋は減少した。
4四半期を平均したベースでみると、ルーターとCESのベンダー市場シェアで上位となったのはAlcatel-Lucent、Cisco、Huawei、Juniper(アルファベット順)であった。
ROUTER AND SWITCH REPORT SYNOPSIS
The quarterly IHS Infonetics Service Provider Routers and Switches market research report tracks the foundational network equipment-IP edge and core routers, vRouters and carrier Ethernet switches (CESs)-that enables voice, video and data communications. The research service provides worldwide, regional, China and Japan market share, market size, forecasts through 2019, analysis and trends. Vendors tracked include Alaxala, Alcatel-Lucent, Brocade, Ciena, Cisco, Coriant, Ericsson, Fujitsu, Hitachi, Huawei, Juniper, NEC, UTStarcom, ZTE and others.
(原文)

Virtual Routers on Track to Grow 125% in the Next Year
Campbell, CALIFORNIA (June 10, 2015)-Architectural changes based on virtualization and packet-optical technologies will hold the compound annual growth rate (CAGR) of the worldwide service provider router and switch market to 2.1 percent over the 5 years from 2014 to 2019, according to the latest IHS Infonetics Service Provider Routers and Switches report.
"Carriers' plans to move more services off edge routers and onto NFV servers and to shift more metro and transport functions to packet-optical transport systems (P-OTS) does not mean that router and switch spending will take a sizable downturn over the next five years. Rather, revenue will grow slowly," Michael Howard, senior research director for carrier networks at IHS.
ROUTER AND SWITCH MARKET HIGHLIGHTS
Virtual routers, or vRouters, made their debut in real-world use cases only in the last few years (for example, Brocade's Vyatta vRouter)
The global vRouter market is in early stages and is forecast by IHS to grow 125% from 2015 to 2016, led by Asia Pacific
The global service provider router and switch market totaled $3.3 billion in 1Q15, down 13 percent from the previous quarter, but up 3 percent from a year ago
Looking at router and carrier Ethernet switch (CES) revenue by geography in 1Q15, North America, EMEA and Latin America were up year-over-year, while Asia Pacific was down
On a 4-quarter rolling average, Alcatel-Lucent, Cisco, Huawei and Juniper (in alphabetical order) were tops in router and CES vendor market share