2015年6月15日米国カリフォルニア州キャンベル発―オープンネットワーキングの中核的な要素であるベアメタルスィッチは2015年第1四半期(1Q15)に世界で出荷されたデータセンターEthernetポートの12%を占めたことがIHS InfoneticsによるData Center Network Equipment レポートにより明らかにされた。1Q15に世界のベアメタル収入は前年同期比で11%増加した。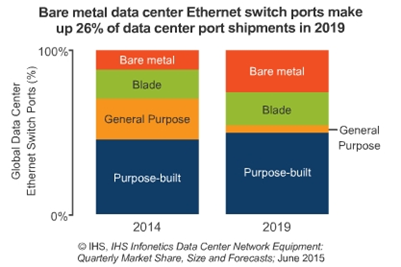 「オープンソースとオープンハードウェアデザインを活用し、誰もが革新的になれるオープンネットワーキングはネットワーキングの世界を変えようとしています。これはまさに、オープンソースがサーバやOSマーケットを変えたのと同じです」と、 IHSでデータセンターとクラウド、SDNを担当しているCliff Grossner, Ph.D.リサーチディレクターは述べている。

「こうしたオープンネットワーキングへの移行はベアメタルスィッチの重要性を強調することになっています。これは全てのベンダーが4月のInteropで発表したことに表れています。Dell はオープンネットワーキングのポートフォリオを、1GEから100GE Ethernetまでのオプションを提供できる最新ブランドのベアメタルスィッチで拡張しています。またCitrixはCloudbridge Virtual WANエディションでSD-WAN市場に参入しましたが、ここで企業はバーチャル化されたWANを構築することができます」と、Grossner博士は続けて述べている。
データセンター市場のハイライト
世界のデータセンターネットワーク機器市場(これにはデータセンターEthernetスィッチ、アプリケーションデリバリーコントローラ(ADC)、WAN最適化機器(WOA)を含む)は、1Q15に前期比14%減少して26億ドルとなった。
データセンターEthernetスィッチセグメント市場は前年同期比ベースでは引き続き拡大した(1Q15は1Q14比4%増)。大企業、公的部門が牽引している。
F5は1Q15にCitrix に代わりバーチャルADCでトップとなった。
DATA CENTER REPORT SYNOPSIS
The quarterly IHS Infonetics Data Center Network Equipment market research report tracks data center Ethernet switches, bare metal Ethernet switches, Ethernet switches sold in bundles, application delivery controllers (ADCs) and WAN optimization appliances (WOA). The research service provides worldwide and regional market size, vendor market share, forecasts through 2019, analysis and trends. Vendors tracked include A10, ALE, Arista, Array Networks, Aryaka, Barracuda, Blue Coat, Brocade, CloudGenix, Cisco, Citrix, Dell, Exinda, F5, HP, Huawei, IBM, Ipanema, Juniper, Kemp, NEC, Radware, Riverbed, Siaras, Silver Peak, Talari, VeloCloud, Viptela and others.
(原文)

Open Networking Is Invading the Data Center
Campbell, CALIFORNIA (June 15, 2015)-Bare metal switches, an integral part of open networking, accounted for 12 percent of data center Ethernet ports shipped worldwide in the first quarter of 2015 (1Q15), according to the IHS Infonetics Data Center Network Equipment report. Globally, bare metal switch revenue grew 11 percent year-over-year in 1Q15.
"Open networking, which leverages open source software and open hardware designs and allows anyone to innovate, is set to change networking, just as open source changed the server and OS marketplace," said Cliff Grossner, Ph.D., research director for data center, cloud and SDN at IHS.

"This move to open networking is heightening the importance of bare metal switches, as evidenced by all the vendor announcements at Interop in April. Dell is expanding its open networking portfolio with three new branded bare metal switches providing options from 1GE to 100GE Ethernet. And Citrix entered the SD-WAN market with Cloudbridge Virtual WAN Edition, which allows enterprises to create a virtualized WAN," Grossner said.
DATA CENTER MARKET HIGHLIGHTS
The global data center network equipment market-including data center Ethernet switches, application delivery controllers (ADCs) and WAN optimization appliances (WOAs)-declined 14 percent sequentially in 1Q15, to $2.6 billion
The data center Ethernet switch segment continues to grow on a year-over-year basis (+4 percent in 1Q15 from 1Q14); positive forces include large enterprises and the public sector
F5 took the #1 spot for virtual ADC appliance revenue from Citrix in 1Q15