2015年6月16日米国カリフォルニア州キャンベル発―EMEA地域 (欧州、中近東、アフリカ) における落ち込み (中でも欧州が主な要因) に引きずられ、2014年の全世界のモバイル・サービス関連売上高は前年より2%減少して7,810億ドルになったことが、IHS InfoneticsのMobile Services and Subscribersで報告された。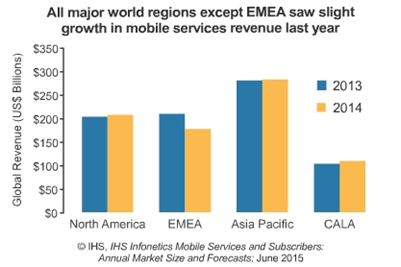 「モバイルの飽和状態と全体的に消費者の買い控えが続いたことが足かせとなり、2014年のEMEA地域におけるモバイル・サービス市場は、前年から14%落ち込んで、3年連続でのマイナス成長となりました。前年と同様に、中近東とアフリカでの成長が、欧州での不振を補うほど力強いものではありませんでした」と、IHSでモバイル・インフラと通信事業者経済の調査責任者を務めるStéphane Téral氏は語った。
モバイル・サービス市場のハイライト
2014年のモバイル・サービス関連の売上高は、カリブ海・ラテンアメリカ地域では前年より7%上昇し、中国での伸びの鈍化が影響した北米とアジア太平洋地域では基本的に前年と同レベルとなった。
世界規模では、2014年のモバイル・ブロードバンド関連の売上高は、前年に比べて3割程度の伸びとなったが、音声サービスとSMS関連売上高の2ケタ台の減少を補うには十分でなかった。
2014年は2年連続で音声関連の売上高と使用量が減少した。
世界全体の音声サービス契約数は2014年に69億回線に到達した
IHSでは、2014年から2019年までのモバイル・ブロードバンド関連売上高が年率11.7%で伸長し、音声とSMS関連の継続的な減少分を相殺すると予測している。
MOBILE SERVICES REPORT SYNOPSIS
The annual IHS Infonetics Mobile Services and Subscribers market research report tracks mobile operators and their mobile voice and data service revenue, average revenue per user (ARPU), and subscribers in each of the world's major regions. The research service provides worldwide and regional market size, forecasts through 2019, analysis and trends for voice, SMS/MMS, and broadband mobile service revenue, ARPU and subscribers by technology. The report features a Mobile Broadband Service Tracker following operator deployments by country, technology and subscribers.
(原文)

Mobile Services Market Dragged by Europe Again
[[[ Campbell, CALIFORNIA (June 16, 2015)-]]] Dragged down by the EMEA region (Europe, the Middle East and Africa), with Europe as the main culprit, global mobile service revenue fell 2 percent in 2014 from 2013, to $781 billion, according to the IHS Infonetics Mobile Services and Subscribers report.
"Hobbled by mobile saturation and continuous weak consumer spending across the board, the mobile services market in EMEA dropped 14 percent in 2014 from the prior year-its third straight year of negative performance. Once again, growth in the Middle East and Africa was not strong enough to pick up the slack in Europe," said Stéphane Téral, research director for mobile infrastructure and carrier economics at IHS.
MOBILE SERVICES MARKET HIGHLIGHTS
Mobile services revenue was up 7 percent in 2014 from 2013 in CALA, and essentially flat in North America and Asia Pacific-a result of a growth slowdown in China
Globally, mobile broadband revenue rose nearly a third year-over-year in 2014, but this was not enough to offset double-digit declines in voice service and SMS revenue
For the second year in a row, voice revenue and usage decreased in 2014
In 2014, worldwide voice subscribers reached 6.9 billion
IHS forecasts global mobile broadband revenue to grow at an 11.7 percent compound annual growth rate (CAGR) from 2014 to 2019, offsetting the continuous decline in voice and SMS revenue