2015年7月7日米国カリフォルニア州キャンベル発―毎秒25ギガビット (25GE) の伝送速度を持つイーサーネット・フレームが、統合型データセンター・ネットワーク・アダプター市場に登場している。IHS /Infoneticsの予想では、2015年第4四半期に出荷される25GEポートは約2,500個となり、2019年には世界で出荷されるすべてのアダプター・ポートの9%を占めるようになる。典拠: IHS Infonetics SAN and Converged Data Center Network Equipmentreportより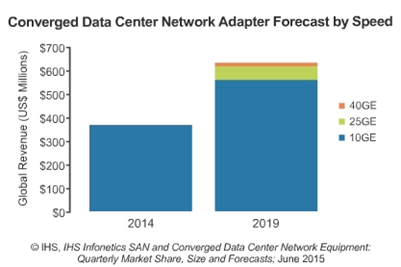 IHSでデータセンター、クラウド、SDNのリサーチディレクターを務めるCliff Grossnerは次のように語った。「25/100GEアーキテクチャーはより大きな帯域幅を持っています。10GEのスイッチとサーバー接続環境から100GEスイッチと25GEサーバー接続環境への移行を目指している大手クラウド・サービス事業者・企業にとっては、この帯域幅は魅力的にうつります。QLogicは、Broadcomと相互運用が可能であることを実証した後、HP、Dellとも同様のことをおこなって、25GEの始動へ向けた準備を続けています。」

Grossner氏はこう続けた。「同時に、ファイバー・チャネルSAN市場は、フラッシュドライブに対する需要の弱まりに直面しており、2015年の収益予想に悪影響を与えています。」
SAN/統合型データセンター市場のハイライト
ファイバー・チャネル・スイッチやホスト・バス・アダプター (HBA) などファイバー・チャネル・ストレージ・エリア・ネットワーク (SAN) の世界的な2015年第1四半期の収益は、前期比11%減、前年同期比1%増の5.95億ドルである。
BrocadeはFC (ファイバー・チャネル) SAN市場をリードし続けているが、IBM/Lenovoとの運用上の問題に直面している。
EmulexはAvago Technologiesから最大6.09億ドルで買収を受けている。
DATA CENTER REPORT SYNOPSIS
The quarterly IHS Infonetics SAN and Converged Data Center Network Equipment market research report tracks chassis and fixed Fibre Channel switches; Fibre Channel HBAs; converged data center switch ports-in-use for storage (iSCSI, FCoE, FC to FCoE); and converged data center network adapters (iSCSI, CNAs). The research service provides worldwide and regional market size, vendor market share, forecasts through 2019, analysis and trends. Vendors tracked include ALE, Arista, Brocade, Cisco, Dell, Emulex, HP, Huawei, Intel, Juniper, Lenovo, QLogic, others
(原文)

25GE Ports to Make Up 9 Percent of Converged Data Center Network Adapter Market by 2019, Says HIS
Campbell, CALIFORNIA (July 7, 2015)-The transmission of Ethernet frames at 25 Gigabits per second (25GE) is making its entrance in the converged network adapter market. IHS (NYSE: IHS) projects around 2,500 25GE ports will ship in the fourth quarter of 2015, growing to 9 percent of all adapter ports shipped worldwide in 2019, according to the IHS Infonetics SAN and Converged Data Center Network Equipmentreport.
"With its higher bandwidth, the 25/100GE architecture is attractive to large cloud service providers and enterprises looking to migrate from 10GE switching and server connectivity to 100GE switching and 25GE server connectivity in the data center," said Cliff Grossner, Ph.D., research director for data center, cloud and SDN at IHS. "QLogic continues to prepare for the launch of 25GE, demonstrating interoperability with HP and Dell switches after doing so with Broadcom."

"At the same time, the Fibre Channel SAN market is seeing weaker demand for flash drives, negatively impacting revenue expectations for 2015," Grossner said.
MORE SAN / CONVERGED DATA CENTER MARKET HIGHLIGHTS
Global Fibre Channel storage area network (SAN) revenue-including Fibre Channel switches and host bus adapters (HBAs)-is down 11 percent sequentially in 1Q15, and up 1 percent from 1Q14, to $595 million
Brocade continues to lead the FC SAN market, but faces operational issues with the IBM/Lenovo transition
Emulex is being acquired by Avago Technologies for ~$609 million