2015年9月3日米国カリフォルニア州キャンベル発―欧州・中東・アフリカ地域における盛んな3G W-CDMAキャパシティー増強プロジェクトと、衰えを知らない中国におけるLTE関連活動に牽引され、2015年第2四半期 (2Q15) の世界全体のマクロセル・モバイルインフラ市場は、前期比および前年同期比でともに2%の上昇となった。IHS Infonetics Mobile Infrastructure Equipmentより抜粋。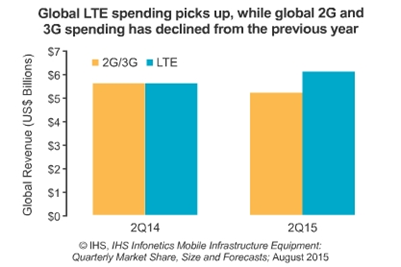 「この四半期は、W-CDMA単独で2G/3G市場を混迷から救い出し、モバイルインフラ市場全体の成長に貢献しました。ブラジル、インド、中東、ミャンマー、タイ、ベトナムでは3Gが大規模に展開されました」と、IHSでモバイルインフラとキャリアエコノミクス担当の調査責任者Stéphane Téral氏は語った。

「ブラジルでは2G GSMから3G W-CDMAへの大規模なマイグレーションが始まり、タイではモバイル事業者に対して、LTE向けに帯域を再利用するため、GSMネットワークの停止が命じられました」と、Téral氏は語った。
モバイルインフラ市場のハイライト
2Q15における世界全体のマクロセル・モバイルインフラ市場は合計で114億ドルとなった。
2Q15のLTE関連の売上高は前期比とほぼ同水準 (1%の伸び) となったが、前年同期比では10%伸長した。
IHSでは、LTEが2015年に230億ドルでピークを迎え、その後は世界全体での展開が減速する影響で減少し始めると見込んでいる。
2015年7月時点で、422のLTE商用ネットワークが導入されており、このうち363ネットワークがFDD (周波数分割複信) タイプである。
EricssonとHuaweiが2Q15におけるLTEインフラ市場シェアをそれぞれ20%余りと発表し、両社が市場を牽引している。
モバイルインフラ・ソフトウェアは2014年から2019年の5年間で、年率8%で伸長するとIHSでは予測している。
MOBILE INFRASTRUCTURE REPORT SYNOPSIS
The quarterly IHS Infonetics Mobile Infrastructure Equipment market research report tracks more than 50 categories of equipment, software and subscribers based on all existing generations of wireless network technology, including radio access networks (RANs), base transceiver stations (BTSs), mobile softswitching, packet core equipment and E-UTRAN macrocells. The research service provides worldwide and regional market size, vendor market share, forecasts through 2019, deployment trackers, in-depth analysis and trends. Vendors tracked include Alcatel-Lucent, Cisco, Datang Mobile, Ericsson, Fujitsu, Genband, HP, Huawei, NEC, Nokia Networks, Samsung, ZTE, others.
(原文)

Mobile Infrastructure Market Hits $11.4 Billion in Q2; LTE Up 10% from Year Ago
Campbell, CALIFORNIA (September 3, 2015)-Driven by strong 3G W-CDMA capacity projects in EMEA and unabated LTE activity in China, the global macrocell mobile infrastructure market was up 2 percent in the 2nd quarter of 2015 (2Q15) from the prior quarter, and up 2 percent year-over-year, according to the IHS Infonetics Mobile Infrastructure Equipment report.
"This time around, W-CDMA alone pulled the 2G/3G market out of the dumps and contributed to the growth of the whole mobile infrastructure market. Substantial 3G deployments took place in Brazil, India, the Middle East, Myanmar, Thailand and Vietnam," said Stéphane Téral, research director for mobile infrastructure and carrier economics at IHS.

"Brazil kicked off a massive 2G GSM to 3G W-CDMA migration, and Thailand has ordered mobile operators to shut down their GSM network to re-use the spectrum for LTE," Téral said.
MOBILE INFRASTRUCTURE MARKET HIGHLIGHTS
In 2Q15, the worldwide macrocell mobile infrastructure market totaled $11.4 billion
LTE revenue was essentially flat (+1 percent) in 2Q15 from 1Q15, but grew 10 percent from the year-ago 2nd quarter
IHS believes LTE will peak at $23 billion in 2015 and then start to decline as a result of diminishing rollouts worldwide
422 commercial LTE networks have been launched as of July 2015, 363 of which are of the FDD (frequency division duplex) variety
Ericsson and Huawei share the LTE infrastructure market share lead in 2Q15, each claiming just over 20 percent
Mobile infrastructure software is forecast by IHS to grow at a 5-year (2014-2019) compound annual growth rate of 8 percent